For those that really haven't known Jowah, well she was originally from Ragnarok, transferred to Fenrir to finally make this whole "Cross Server Love" to come true.
However, shortly after, Jowah has to take her leave from the game permanently, so a friend of mine is currently playing her account. I still have access to this wonderful Taru, though I'd miss Jowah a lot.
So yea, I've kept a profile of Jowah – Fenrir, who she is and what she really accomplished in my own personal gaming blog.
(Last update on: 03/02/2009)
Name : Jowah (Now with Maiev, till Aug 30,09)

Created on: 12 April 2006

Server : Ragnarok / Fenrir

Race/Sex : Tarutaru Female

Job : BRD WHM SMN BLM PLD SCH

Nation : Windurst/10

Linkshell : SpikeFlail

Chocobo: Caesar III

Fellow: Savul-Kivul, 58 F.A.
This is a blog of a little tarutaru female from Windurst who loves enjoying her adventures across Vanadiel on Ragnarok server.
I usually spend my time with linkshell friends and my luv Kerberoz, my FFXI husband! (R3in' him most of the times, or feeding him with pies and jellies :3 -wonder why he's that…..fatty?-)
……..Or doing Salvage (and i'm a total whore of that event) countless times.
My jobs are Summoner (wich I use it in some HNM fights and solo sessions) ; Bard, that strange singing being loved by all the people/linkshells in Vanadiel, and White Mage wich I really love so much even if sometimes I'd like to kill someone when I read "HASTEEEEEE" yellings xD (Talking about Amina? Uhhhhh no way '-')
And, Black Mage! God I love that job. Especially each time I do something new with Kerberoz like ENMs or some new challenging stuff.
Currently leveling Paladin, Red Mage will be my next call.
And no, I'm not going for teh cap :3
BRD

75

WHM

75

SMN

75

BLM

75

PLD

75

SCH

75
Missions
Zilart Completed
Aht Urghan/Assault Completed / Tier 10
Wings of the Goddess / Campaign Crossroads of Time / Mythril Star
Artifact Armor
Artifact Armor +1
Relic Armor
Relic Armor +1
Marduk set
| | | | | | |
| --- | --- | --- | --- | --- | --- |
| | Head | Body | Hands | Legs | Feet |
| 15 | Completed | Completed | Completed | Completed | |
| 25 | Completed | Completed | Completed | Completed | x |
| 35 | Completed | Completed | Completed | Completed | x |
Morrigan set
Silversea, don\'t hate me!
| | | | | | |
| --- | --- | --- | --- | --- | --- |
| | Head | Body | Hands | Legs | Feet |
| 15 | | Completed | Completed | x | Completed |
| 25 | x | Completed | Completed | | Completed |
| 35 | | Completed | Completed | | Completed |
Nyzul Isle
Goliard and Askar, because both looks cute and I\'m a stupid itemwhore D:!
| | | | | | |
| --- | --- | --- | --- | --- | --- |
| | Feet | Legs | Hands | Body | Head |
| Goliard | x | x | | x | x |
| Askar | x | x | x | | |
Accomplishments
And something about the real Jowah..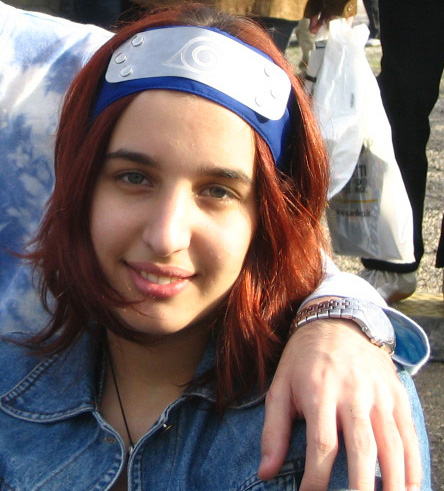 Name: Camilla
Country: Italy
Age: 23
Red haired and green/grey/blue eyes (depends on the weather lol!) Something like 172cm tall and weight….hey I'm a girl how dare you to ask such things o.o!
I work as a web-multitask in a local web-mantainer society. With "web-multitask" I mean I am both a designer, developer, checker and so on x_x
I take care about CSS mostly, and it's something i really love and like to do. Work takes most of my time, consuming me 8hours/day, 5 days per week.
I've been a RPG lover for long time; my very first RPG ever was FFVII, followed by FFIV and then by my favourite one of the series, FFVI.
But I actually love Suikoden more than Final Fantasy. (And Jowah comes from Jowy, Suikoden II)
Regarding MMOs, my first try was with Ragnarok Online (iRO, when all swordies looked as doppelganger and Baphomet was something HUGE).
I played both in official and unofficial servers, and I even had my own (two serious server..one with Aegis and later with eAthena SQL).
I worked for euRO (european Ragnarok Online) for a while, but get pissed and left the assignment. I tried FFXI on January 2005 but I was alone and got bored after one month or two.
Then i moved to FlyFF Beta and played till…the end of beta. (I saw my almost LVL80 char wiped, and it was not nice)
Then here I am on FFXI, blame Michael and some other friends of mine :D
—-
Black Mage
Terra's Staff

Apollo's Staff

Pluto's Staff

Aquilo's Staff

Wind Staff

Jupiter's Staff

Water Staff

Fire Staff

Kirin's Pole

Asklepios

Morrigan's Robe

Wizard's Coat +1

Errant Houppelande

Sorcerer's Coat

Nashira Manteel

Oracle's Robe

Zenith Crown

Igqira Tiara

Nashira Turban

Walahra Turban

Sorcerer's Petasos +1

Oracle's Cap

Zenith Mitts

Wizard's Gloves +1

Errant Cuffs

Morrigan's Cuffs

Sorcerer's Gloves +1

Oracle's Gloves

Moldavite Earring

Relaxing Earring

Antivenom Earring

Novio Earring

Loquacious Earring

Elemental Torque

Spider Torque

Gnole Torque

Dark Torque

Uggalepih Pendant

Philomath Stole

Morgana's Choker

Ixion Cape

Altruistic Cape

MercifulCape

Mahatma Slops

Sorcerer's Tonban

Wizard's Tonban

Yigit Seraweels

Zenith Slacks

Igqira Lappa

Penitent's Rope

Qiqirn Sash +1

Sorcerer's Belt

Hyorin Obi

Anrin Obi

Rairin Obi

Lamiabane

Phantom Tathlum

Spirit Lantern

Herald's Gaiters

Goliard Clogs

Numerist Pumps

Tamas Ring

Omega Ring

Balrahn's Ring

Sorcerer's Ring

Diamond Ring
Stuff no longer used such Rostrum pumps or useless/obsolete pieces like Wizard's petasos or Goliard's slops are not listed.
Last update: 4 February 2009
Missing BLM Gear:
weapon.All missing HQ staves head. Genie Tiara, Morrigan Coronal neck. Enfeebling torque, Prudence Torque back. Invigorating cape legs. Morrigan slops, Genie Lappa feet. Yigit crackows, Morrigan pigaches, Nashira crackows, Avocat's pigaches.
Paladin
Macuahuitl +1

Sinfender

Iron Ram Lance

Terror Shield

Valor Leggings

Gallant Leggings +1

Homam Gambieras

Askar Gambieras

Valor Breeches

Kaiser Diechlings

Gallant Breeches

Valor Gauntlets

Homam Manopolas

Askar Manopolas

Valor Surcoat

Coral Scale Mail

Hercules' Ring

Mermaid's Ring

Shadow Ring

Coral Ring

Jelly Ring

Lamian Kaman

Spear Strap

Loquacious Earring

Buckler earring

Ethereal Earring

Paramount Earring

Cassie Earring

Guardian earring

High Brth. Mantle

Shadow Mantle

Boxer's Mantle

Lamia Mantle +1

Valor Coronet

Gallant Coronet

Walahra Turban

Koenig Schaller

Aegishjalmr

Louhi's Mask

Resolute belt

Quick belt

Water Belt

Trance Belt

Ritter Gorget

Parade Gorget

Shield Torque
Melee gear (Hauby, Askar legs or skillups items like Algol) or old PLD stuff (Bibiki seashell, AF1 body,Koenig Hands …) are not in the list.
Last update: 4 February 2009